Stand construction Brabant
Call +31 492 574 545 or see our projects
"*" indicates required fields
About Stand Construction in Brabant
Stand construction Brabant. Are you taking part in a trade fair soon? Cialona Expo Standbouw Brabant specializes in designing and building unique exhibition stands.
Cialona Expo is the full service stand builder you are looking for for your exhibition participation. With many years of experience in the world of stand construction, at home and abroad, we know better than anyone what is involved in developing a suitable exhibition stand. Every company and every trade fair requires a different presentation during a trade fair in its own way. We go through your wishes, goals and budgets, so that we can design the perfect exhibition stand for you and ultimately bring it to life on the exhibition floor.
We are a so-called one-stop-shop, which means that our team helps with everything related to the exhibition participation. We offer full-service and are happy to take everything off your hands. We would be happy to visit you to discuss all plans for the upcoming period.
24/7 insight into the stand construction progress
As mentioned, our team helps with everything related to the exhibition stand and thus the exhibition participation. You will be guided during the project by one of our project managers. This allows us to keep the lines of communication short and effective. You have a point of contact during our cooperation.
Clear communication, both internally and with our customers, is very important to us. For this reason we also have our own Cialona Client Portal. This gives you access to your own dashboard, in which you can view the progress of your project 24/7.
There are of course more functions in your dashboard, such as uploading and downloading documents and images and approving deadlines and other agreements. It is a multifunctional portal that ensures transparent collaboration. Stand construction Brabant by Cialona Expo.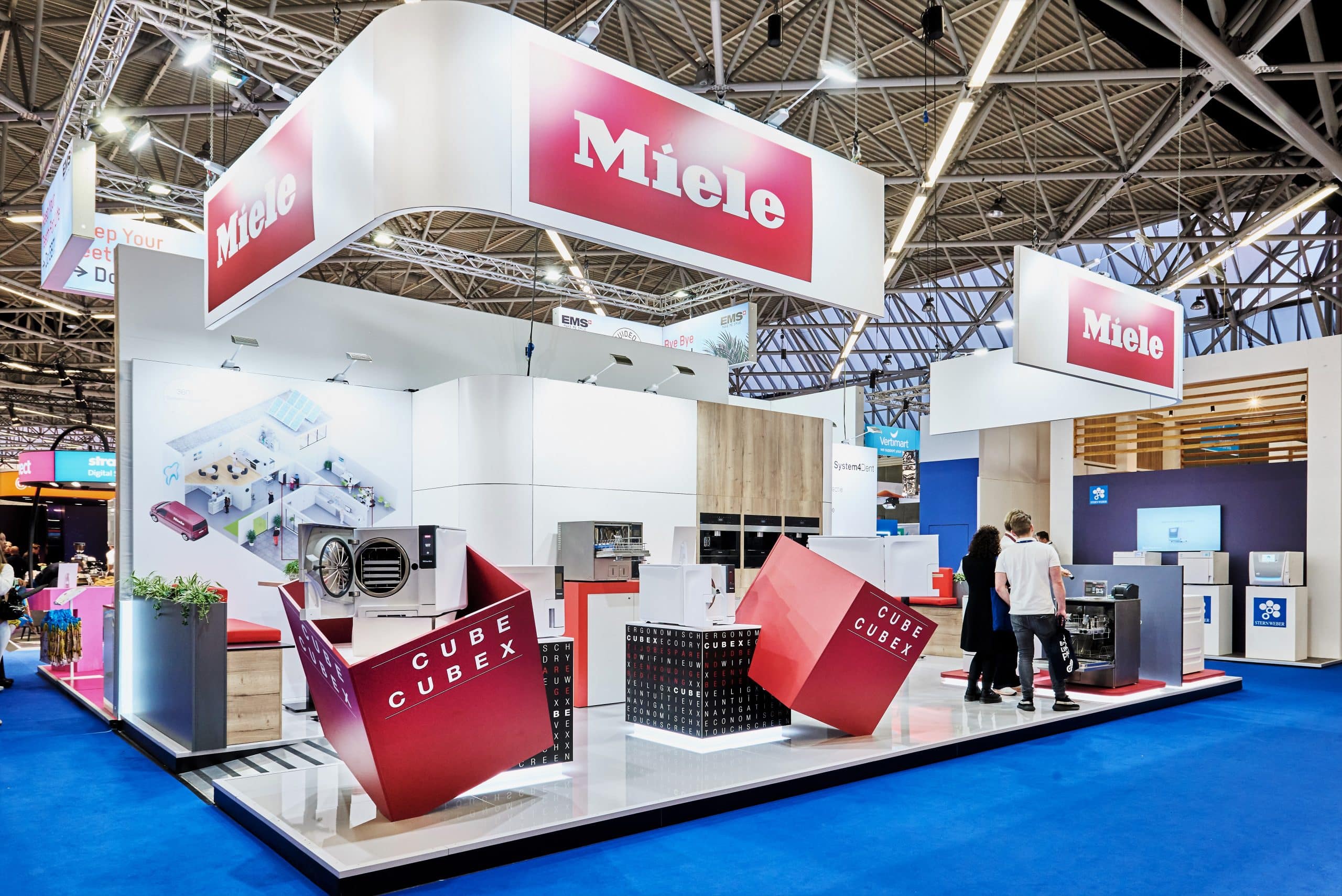 Cialona Expo stand construction Brabant for the perfect exhibition experience
During the briefing we discuss various matters, including the look and feel of the stand and the purpose of the exhibition participation. Our design team can get started with this. They will create concepts to ensure that your goal is achieved.
Cialona's designers have a lot of experience with stand construction projects and can create a suitable stand design for you that is tailored to the identity of your organization. Like the booth opposite, for example, of  Miele.
The perfect exhibition experience is different for every organization and every exhibition. Our team is known at many exhibition locations of stand construction Brabant and throughout the Netherlands and Europe. Thanks to all the experience of our team, we can make the optimal design for the exhibition participation and the associated target group that you want to address.
In short, we are completely at home in this and are happy to provide that perfect exhibition experience, so that your target group will not pass you by.
A unique exhibition stand for a large audience in Brabant
Participating in an exhibition anywhere in the world is an effective means of presenting your company to a large, live audience, which largely consists of your target group. There are a number of exhibition locations in Brabant where this is possible.
We ensure that your organization attracts attention with a unique exhibition stand and take the entire process out of your hands.
From a complete 3D stand design to in-house production, assembly on location and storage afterwards. We really do it from A to Z.
It is good to know that we do not only build stands in Brabant, of course, but we are truly active worldwide. We can be your permanent partner for exhibition participations all over the world. If you participate in a trade fair in the near future, we would like to meet you. Do you contact us?

Mattel Europa BV
"Communication with Cialona Expo is pleasant, clear, fast and clear." – Wendy

Dorel Juvenile Group
"Cialona has been challenging us with creative ideas and solutions since 2001." – Guido

Bridgestone Nederland B.V.
"For us, a stand builder must be accurate, fast and flexible. Cialona is this."