The Tire 2022 in Cologne is a trade fair for the tire and wheel sector. It is a specialized fair with a focus on online tire trading, all-weather tires, competition with car dealers and independent workshops. Challenges are discussed here, but also new products and other inspiration sessions take place during The Tire 2022 in Cologne.
The fair will take place from 24 to 26 May 2022 in Cologne, Koelnmesse. During the last edition of The Tire, some 16000 colleagues visited the fair, where more than 500 exhibitors exhibited their products and services. It is the trade fair if you are a player in the tire and wheel industries. The target audience of the fair are tire dealers, car dealers, repair companies, fleet managers and, for example, online suppliers.
The Tire Cologne 2022 is all about presenting new products, entering into partnerships and sharing developments. It is the perfect opportunity to showcase intelligent technology from the international tire industry and open up perspectives for the future. Each edition, this fair gets bigger and more interesting, all the more reason to be there (again)! We build your exhibition stand that will make you stand out in the large halls full of exhibition stands of competitors. 
Team Cialona Expo is happy to work on your next project to design and realize the most suitable stand with which you can reach your target group during The Tire.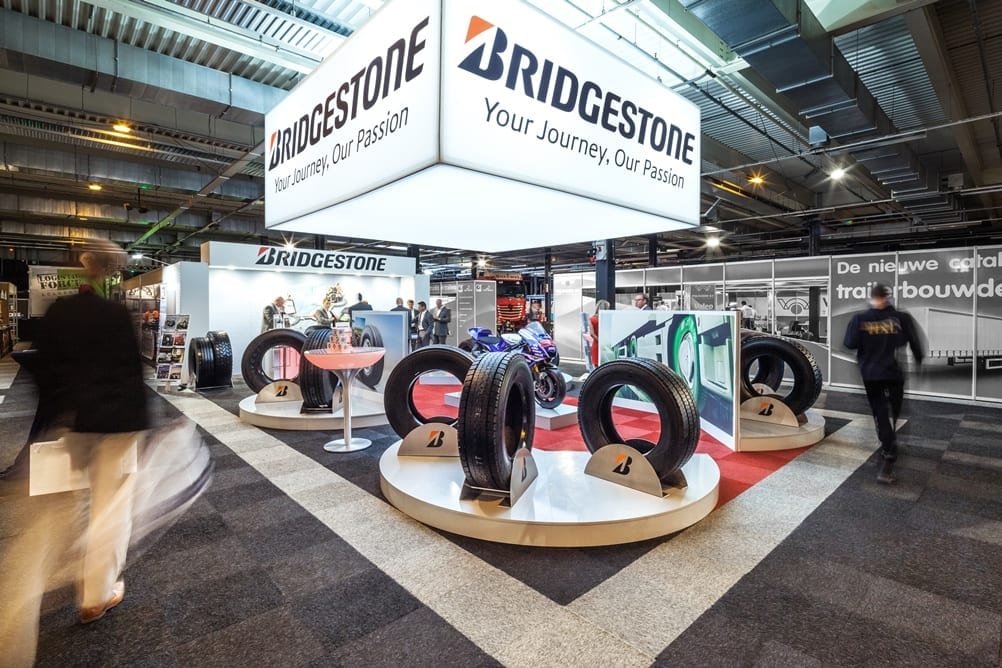 Need a stand builder for The Tire 2022?
As a professional stand construction company, Cialona Expo builds for the Tire 2022 in Cologne, among other things. As a stand builder, we are at home in all markets and offer you a complete from A to Z service from design to realization of the exhibition stand. We take over the process from you and ensure that your path to the exhibition participation will go smoothly. To keep our collaboration as transparent as possible, we have our own Cialona's Client Portal. Within this portal you can view the progress of your project(s) 24/7. This portal is also intended to approve steps, to be able to upload and download documents, but also to have an overview of deadlines. We like short lines, don't you?
If your stand has been dismantled after The Tire 2022 Cologne, you also have the option to store the stand with us in Cialona's Warehouse. Any subsequent exhibition participations can be easily facilitated in this way and any adjustments are made faster.
Want to design a functional yet unique stand that also attracts the attention of the trade fair visitors? This is a stand where your organization comes into its own and which we are happy to realize for you.
Go for a more sustainable stand
More and more companies are striving to become more sustainable every year. This can be achieved in many different ways, and this also differs per industry. When it comes to building a sustainable exhibition stand for The Tire 2022 Cologne, Cialona Expo is the 'green' address!
We believe it is important to keep taking steps towards more sustainable business. In this way, our environment is also becoming more sustainable, greener and better. We do our best to be at the forefront of sustainable applications in stand construction. For example, more and more use is made of recycled materials such as PET bottles or waste wood. Our machinery is also fully geared to this, as little waste as possible and trying to make something from leftovers.
As a result, we can offer you as an organization the opportunity to really work on more sustainable intentions regarding your trade fair participation in The Tire 2022 in Cologne.

Mattel Europa BV
"Communication with Cialona Expo is pleasant, fast and clear." – Wendy

Dorel Juvenile Group
"Cialona has been challenging us with creative ideas and solutions since 2001." – Guido

Bridgestone Nederland B.V.
"For us, a stand builder must be accurate, fast and flexible. Cialona is this."