Interior project | Helmond | 65m2
Today, the Library is much more than just lending books, they regularly offer different activities for different target groups. Cialona Expo has created an Experience Room for the Helmond-Peel Library, especially for children.
In this TechLab, children can get acquainted with the latest media and technology on the basis of expeditions with different themes. Think of 3D printing and programming robots.
The TechLab grabs the attention of every visitor. It is clearly present on the first floor of the library in Helmond and stands out because of its special design. The connection between technology, language and stories is reflected in it. Which fits perfectly with the vision of the library.
The lab is open and transparent in the middle and has an innovative and hip appearance, so that it is attractive to young people. The space can be arranged flexibly, the furniture is movable and there is a green screen that can be rolled up after use.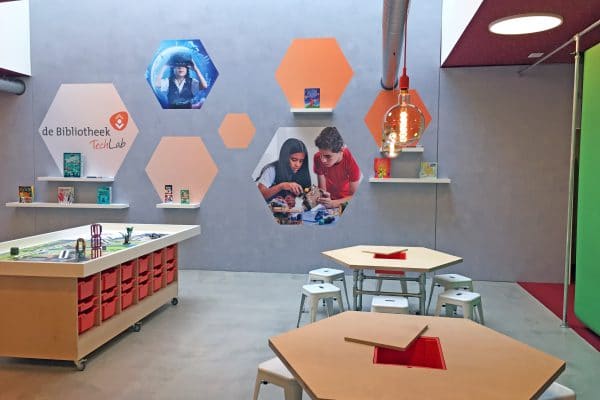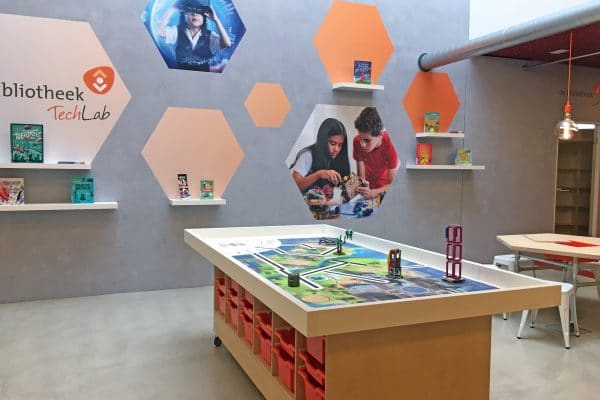 The Library wants to contribute to the personal development of children, especially in this rapidly changing society. Research shows that young people are less digitally skilled than they think.
In the TechLab, children are introduced to a new, educational and topical theme during each expedition to ensure that they master 21 century skills.
"Cialona Expo has equipped the library with a nice TechLab. They do a lot of preparatory work in their studio, so the TechLab was built in a few days. We can't wait to get started!"
Sanne Respen, Reading and Media Consultant at Helmond-Peel Library
The interior design is inspired by science fiction films and sets. It looked at colors and shapes, and in this genre it is striking that it is a combination of extremely graphic and angular. That is why the hexagon, the hexagon, comes back a lot in the design.
Bright colors have been used to make the space attractive to children. And there is plenty of space to sort and store all the necessities.
Curious what we can do for your interior project?