Call +31 492 574 545 or see our projects
"*" indicates required fields
Anuga 2023 in Cologne. The Anuga is one of the largest international food and beverage trade fairs. Every two years this fair takes place in Cologne, Germany. And this year it's that time again. Worldwide, the event attracts thousands of visitors from all over the world and every year the fair becomes more relevant to the industry.
In the five days that the fair lasts, all new findings, innovations and trends are presented and demonstrated to all attendees. This year, for example, think of the latest products in the field of organic and vegetarian food and drinks. The fair covers all sectors from dairy to beverages, bakery, meat, fish, but also luxury drinks and special delicacies.
Stand construction for Anuga
Stand construction for Anuga 2023 in Cologne. Cialona Expo is a full service stand builder with all the necessary expertise literally in-house. We have a team of designers, project managers and stand builders to realize your project from A to Z. We take care of everything around the stand.
As a stand builder, we strive for a long-term relationship and we also find transparency in our partnership very important. That is why you get your own dashboard in our client portal, in which you can see the progress of your project 24/7.
You can also see all steps in this dashboard, approve agreements and upload and download documents. Are you curious what our team can do for your participation in Anuga 2023? Contact us today, we are here for you.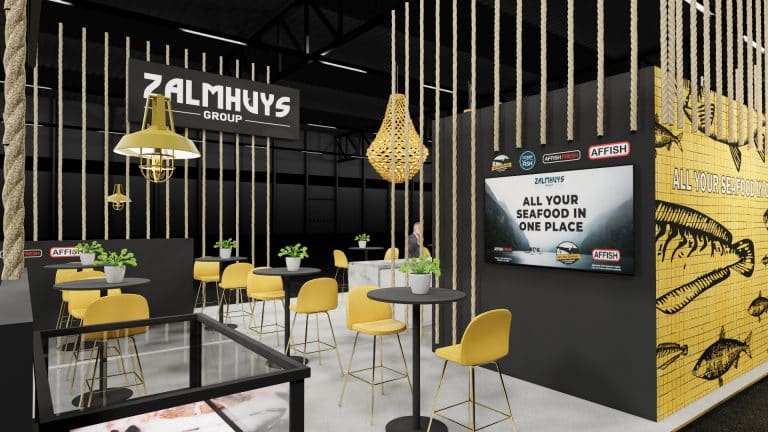 3D design of your exhibition stand
Our team has many years of experience in designing and realizing custom exhibition stands at the most diverse exhibitions. Partly for this reason, with a Cialona Expo stand at the Anuga 2023 you make a great first impression compared to the competitors.
After the briefing about your wishes and requirements regarding participation in the Anuga, our designers will start making a first draft.
Walk through the stand virtually beforehand
After optimization, you will receive a 3D design of the exhibition stand from us, which gives a very realistic picture of what the stand will actually look like on the exhibition floor. The placement of all elements and an atmosphere is immediately visible. We walk through it literally, but virtually together.
After that there is of course room for feedback and adjustments or additions. If the final design is approved, we will then develop and produce it.
This way you will not be faced with any surprises, 'what you see is what you get'!
Store the booth in Cialona Expo's warehouse
We offer our customers the opportunity to store the stand in our own warehouse after the exhibition. This is because large volumes are often involved and because the stand, or parts of it, are (re)used several times a year.
Adjustments for a subsequent participation can be better realized in this way. During our collaboration we can discuss the possibilities for a modular stand and its storage.
We look forward to hearing about your participation in the Anuga 2023 Cologne.
We have been working with Cialona for years and we are still very satisfied! A flexible club with insight into the wishes of their clients.
Their designs are always surprising and match our corporate image.
Dana
VDL TBP Electronics
The exhibition stand is great!
Astrid
Vespo
As a customer, I have already tackled several projects with Cialona. It is a real full-service team, where you as a customer have the idea that you count! Always a quick answer, always available, always going to the extreme, always thinking along, always quality and always with a smile. I'm already looking forward to the next project!
Wendi Preiner
Summox
Great to be at a trade fair again in such a great exhibition stand!
Marielle
NIBE Energietechniek
We were in the top 3 of the most beautiful stands of the trade fair, we were very proud of it!
Ralf
NSC Beveiligingstechniek