"*" indicates required fields
About Expopharm 2022 Munich
Expopharm 2022 in Munich will take place from September 14 to 17. Nowhere else in Europe does such a large number of decision-makers from pharmaceuticals come together in one place. They are the decision makers and highly qualified experts from science and practice. Presentations are given on the latest topics during Expopharm. Healthcare politicians and representatives of the sector will meet during this fair and together they will chart a course for the future in the pharmaceutical market. During this four-day fair, innovative products and solutions by key suppliers are also presented to the pharmacy market. All in all, it is the fair to participate in if you are a player in the pharmaceutical industry.
Are you planning to participate in Expopharm 2022 in Munich and would you like to take steps, stand out and ensure that all exhibition visitors visit your stand? Then look no further, we at Cialona Expo are happy to help you with this. We have more than 50 years of experience in making the most unique exhibition stands for a wide range of exhibitions and customers.
Full-Service Standbouw voor Expopharm 2022
We are a full-service organization with all necessary disciplines in-house. This means that we design, produce, realize and afterwards also store your stand in our indoor warehouse. From A to Z, we ensure that your exhibition participation runs smoothly up front, so that you only have to deal with your visitors.
At Cialona Expo we go for extreme creativity and top service. As mentioned before, everything is literally under one roof with us, so from the first contact with us to the stand storage, we take over the baton for you. The perfect experience, that's what we aim for. It is important to us to create the perfect business card that makes your stand the talk of the fair. Your business card during Expoharm 2022 is also ours.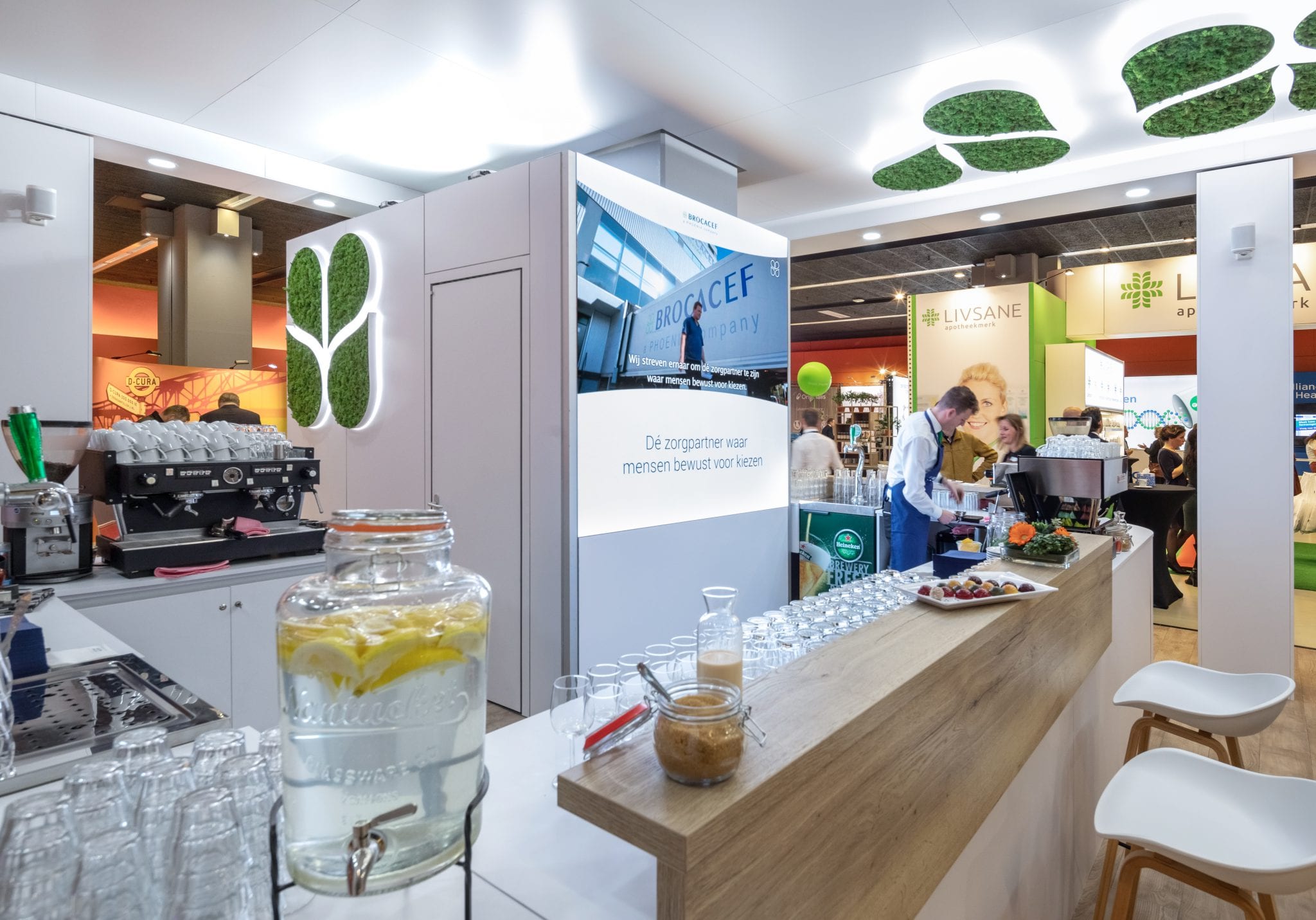 See the progress of your stand 24/7
Once we work together, one of our project managers will become the permanent contact for your project. He or she will make sure that everything runs smoothly. In order to keep this mutual communication about your project as transparent and fast as possible, we use our own Client Portal.
Within this portal you can view the progress of the project 24/7. But the portal is also used to approve steps and to upload and download documents. Deadlines for, for example, certain delivery specifications are also immediately visible. That way no one will be surprised.
3D Visuals of your exhibition stand
We have more than 50 years of experience in designing and realizing exhibition stands. With a Cialona Expo stand you make a difference compared to your competitors. Not only the quality, but also the smooth and professional cooperation plays an enormous role in this. In order to give you a good idea of ​​what your stand will look like in the preliminary phase, we make 3D visualisations.
In these visualizations you can see the design of the stand, the placement of all elements and an atmosphere is also immediately clearly visible. We literally walk through it, after which a good feedback round is in order. We will continue until you are satisfied with the end result. This way you will not be faced with surprises, what you see is what you get!
View all our projects here or request a quote directly and without obligation using the form on this page.

Mattel Europa BV
"Communication with Cialona Expo is pleasant, fast and clear." – Wendy

Dorel Juvenile Group
"Cialona has been challenging us with creative ideas and solutions since 2001." – Guido

Bridgestone Nederland B.V.
"For us, a stand builder must be accurate, fast and flexible. Cialona is this."